Thousands of San Diego residents hear former homosexual and AIDS patient James Hartline as he shares the intimate details of his life during today's San Diego city council meeting. In a city of 1.4 million citizens where politicians are being bribed to promote gay marriage and homosexual activists have taken control of nearly every aspect of the municipal government, one man is refusing to comply

...
with San Diego's ungodliness and forced political correctness. While most San Diego Christians are completely silent as they watch their city taken over by a small, but powerful and well financed homosexual political movement, ex-homosexual James Hartline is taking his message of truth and Biblical correctness right into the very center of the city government. James is a well known former homosexual who was infected with AIDS inside of a local San Diego gay sex club in 1997. Despite receiving many death threats and being abandoned by many churches whose pastors want Hartline silenced for speaking out against wealthy Republican Party politicians who donate to churches in exchange for access to church votes, Hartline refuses to stop speaking out about corruption, sin and most importantly, hisrelationship with Jesus Christ.
At today's city council meeting, Hartline gave the city council members, their staff and thousands of television viewers a speech they had never expected to hear during a meeting filled with discussions about budgets, jobs and new city construction projects. With an accompanying power point presentation which featured real life photos of Hartline's abusive childhood, near death experiences and his 17 year-long battle with AIDS, James gave a riveting account of his childhood, adulthood and turning his life over Jesus Christ.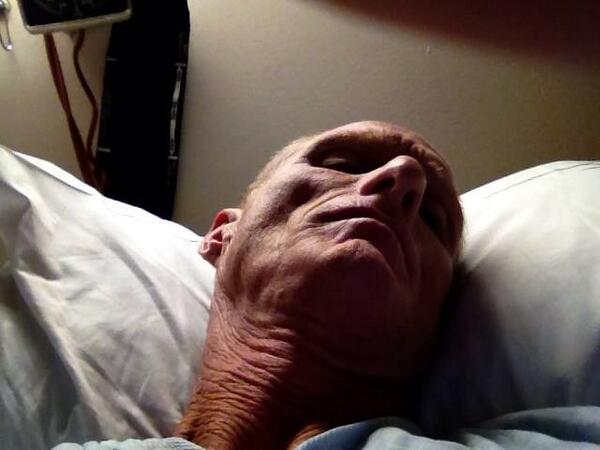 While every member of the city council and those in attendance listened intently to Hartline's presentation, Councilman Kevin Faulconer walked out of the city council chambers to mock Hartline's speech. This was the same Kevin Faulconer who was all smiles on Sunday as he campaigned for votes inside of Miles McPherson's The Rock Church.
Faulconer isn't too happy with Hartline. Once considered a shoo-in to become San Diego's next mayor, Faulconer held a commanding 17 point lead in the polls as recently as three weeks ago. His lead has fallen to 1% over fellow Councilmember David Alvarez thanks to James Hartline publishing numerous well-read articles which have exposed a litany of corruption and dishonest back room deals Faulconer has made with megachurch pastors Mike Macintosh of Horizon Christian Fellowship and Miles McPherson of The Rock Church. You can watch James Hartline's speech at today's city council meeting by going to the city council link provided and sliding the time ruler to the time of 24:21.